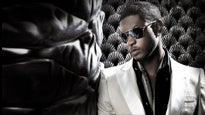 The American Express presale password for Usher at CLUB NOKIA in Los Angeles, CA is live at 10:00 AM PT 10/14/08. After the presale period, you can still buy tickets through the link below without entering a password.
Buy it with American Express and get rewarded. Clicking on the banner will open a new window and will not take you away from this page.
Please be aware that you may need to have javascript enabled in your browser to see the password and your popup blocker disabled. If, when you click on the link for the show you want, you don't see the password pop up, check these settings. If you need to enable javascript in your browser and don't know how, you can go here for instructions:
http://www.google.com/support/bin/answer.py?answer=23852
Click on the link below to receive your password. You will automatically be directed to the corresponding ticketmaster page (in a new window) once you click "OK" on the password.


Usher
CLUB NOKIA, Los Angeles, CA
Thu, Nov 20, 2008 07:30 PM