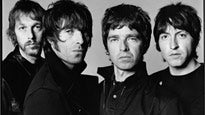 Presale for Oasis is live at 10:00 AM local venue time on 09/30/08 and ends at 10:00 AM local venue time on 10/02/08.
Use American Express and get rewarded! Click on the banner below to apply and get fast approval. Clicking on the banner will open a new window and will not take you away from this page.
Please be aware that you may need to have javascript enabled in your browser to see the password and your popup blocker disabled. If, when you click on the link for the show you want, you don't see the password pop up, check these settings. If you need to enable javascript in your browser and don't know how, you can go here for instructions:
http://www.google.com/support/bin/answer.py?answer=23852
Click on the link below to receive your password. You will automatically be directed to the corresponding ticketmaster page once you click "OK" on the password.
Wed, 12/03/08 07:00 PM
ORACLE Arena Oakland, CA
Thu, 12/04/08 07:00 PM
STAPLES Center Los Angeles, CA
Sat, 12/06/08 08:00 PM
Pearl Concert Theater at Palms Casino Resort Las Vegas, NV
Mon, 12/08/08 07:00 PM
Broomfield Event Center Broomfield, CO
Wed, 12/10/08 07:00 PM
Target Center Minneapolis, MN
Fri, 12/12/08 07:00 PM
Allstate Arena Rosemont, IL
Sat, 12/13/08 07:00 PM
The Palace of Auburn Hills Auburn Hills, MI
Wed, 12/17/08 07:30 PM
Madison Square Garden New York, NY
Fri, 12/19/08 07:00 PM
Susquehanna Bank Center Camden, NJ
Sat, 12/20/08 07:00 PM
Patriot Center Fairfax, VA